FULL SWING GOLF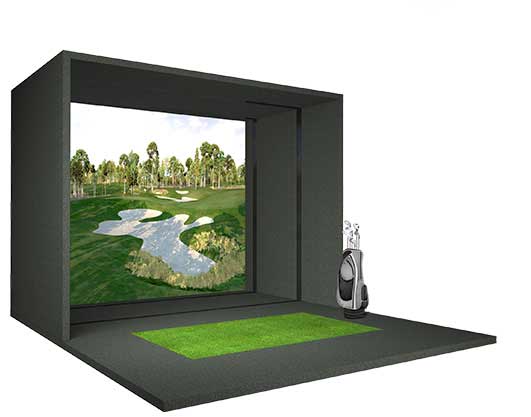 A golf simulator is a system of hardware and software components that track club and ball launch conditions and ball-flight then simulates what the ball would have done in the real world in a virtual golf environment. The FSG simulator is a turn-key package. It includes a projector, computer, touchscreen, dual ball-tracking technologies, golf course software, enclosure, hitting screen, hitting mat, wiring, and all necessary components to accurately track the ball and realistically simulate golf. The full swing golf sims are multipurpose sims. Connect your DVR, DVD, Bluray, Xbox, Playstation, Wii or any other type of media device that can be projected on a screen. FSG projectors are HD, 4000 lumens or more, with excellent performance ratings for golf and multimedia applications. Play golf or watch the big game or your favorite movie on. FSG helps you and your family make the most of your space and investment.
A worldwide network of simulators.
Found in over 30 countries around the globe, internet-connected Full Swing simulators keep the game going day and night, all year round.
Performance. Realism. Endurance.
Featuring state of the art ball tracking, championship courses, and superior performance products, our golf simulators drive results for your game or business.
Why Full Swing Golf?
Dual Tracking Technology
Fluid and Real Time Environment
Realistic, Smooth, and Precise Ball Flight
Data Feedback That Matters
93 Championship Courses
Meticulous Course Reproduction
Superior User Interfaces Simulator Durability and Longevity
FSG comes in dozens of sizes to accommodate nearly any space. The flagship model, the Widescreen Champion, is nearly 17' wide, 10' tall and 22' long with a 210" screen. The smallest configuration of the Original Champion is 11'6" wide, 8'6" tall, and 17'6" long. If you can swing a club in your proposed simulator space, it's likely that FSG has a simulator model that will fit well.
FSG sims are featured in thousands of commercial environments such as golf retailers, private and public golf courses, sports bars, recreation and indoor golf centers, teaching and training facilities, hotels and resorts, colleges and universities, health and fitness clubs, military bases, and many more commercial applications.
They are also featured in many homes of PGA TOUR pros and thousands of homes of world leaders of business, athletics, politics and entertainment. When quality, accuracy, realism, and reliability are more important than price, the clear choice is Full Swing Golf.
The FSG simulator has many applications. Many customers are focused on game-improvement, teaching and training, and/or club-fitting. Others are focused on entertainment and spending time with friends and family. PGA TOUR pros use their FSG sims for serious practice and data analysis. Whatever application FSG customers have in mind for private or commercial use, the FSG sim is built to perform. The FSG sim uses dual ball-tracking technologies that feed the golf software the information needed to render true ball-flight.
The FSG patented Infrared tracking system actually measures the golf ball's speed, launch angle and direction at the speed of light. No other measurement device or technology can measure these ball-flight characteristics more accurately or rapidly… period.
Ion2 Vision Technology, FSG's proprietary high-speed camera system, measures ball spin characteristics such as back spin, side spin and spin axis… without extra markings on the ball. This camera also captures extensive club head data such as club speed, club path and club face angle.
Seamless integration of these technologies ensure accurate collection of data and instant infusion of that data into the golf simulation software, which renders the ball-flight and shot performance in the virtual environment, as if it happened outdoors.